(which, according to Google Translate, means "new books" in Icelandic…)
Speaking of Iceland, have you heard Sigur Ros? They are one of Iceland's most popular bands. I saw them play last summer in Boston, and they were
amazing

. Check out the track above!
ANYWHO…
Our January book order has arrived!
And with it, some very awesome new titles to explore. Take a gander at the accordion list below to discover something new:
Fiction
Choosing Romeo and Juliet as her base, Caine expands the story from the viewpoint of Benvolio, Romeo's Montague cousin. While Shakespeare's plot clearly anchors Caine's, the novel focuses on providing context for the well-known story rather than embellishing it. Beginning with the premise that friend Mercutio is gay and in love with Tomasso, a shy scholar, the book sets up a series of events that will result in Mercutio's famous dying words, "a plague on both your houses." Romeo and Juliet remain somewhat minor characters, their story unfolding in the background, mostly offstage. Benvolio himself has a new talent: He's a cat burglar known as "The Prince of Shadows," using his skills to exact revenge on those who have done him wrong. Benvolio's robberies keep pages and plot moving toward Mercutio's utterance—ambiguous to the characters but not to readers—while the novel remains focused on the overarching theme of love and useless revenge. Most impressive is the author's simulation of Shakespeare's language in her prose. Never too obscure for modern readers, it retains the flavor of Shakespearean dialogue throughout, lending an atmosphere of verisimilitude that's reinforced by the detailed city setting. Simply superb. (Review via Kirkus Reviews)
Jaron, irascible, incorrigible king of Carthya, faces the loss of his kingdom, his friends and his life in the gripping finale of the Ascendance Trilogy. Fresh from his foray to the pirates in The Runaway King (2013), Jaron learns than King Vargan of Avenia and allies from Gelyn and Mendenwal have invaded Carthya and captured Jaron's friend Imogen. Determined to save Imogen, Jaron attempts a rescue and fails, leaving him a prisoner and Imogen presumed dead. As he tries to cope with Imogen's death, captive Jaron discovers how much he loved her. Relying on the skills of lying, stealing and deceiving he honed as a child, Jaron outwits his captors and returns to Carthya to rally his outnumbered troops. Resolved to save Carthya, Jaron devises a series of improbable, dangerous and ingenious plans designed to surprise his enemies as well as readers. Through his self-reflective, first-person narration, Jaron confesses friendship and love have greater power to wound him than villains, plots and enemies. In the end, friendship and love win out, as Jaron and his loyal friends confront their foes to determine Carthya's future in a harrowing conclusion. From one cliffhanging episode to the next, wily Jaron's rebellious, undisciplined spirit carries the day as he battles to save everything he holds dear. (Review via Kirkus Reviews)
The aristocrats and the poor clash in 1888-9 Paris. Most Parisians dislike the new tower under construction by Monsieur Eiffel, but Maude, a 16-year-old who has run away from home, loves what others see as a monstrosity. Maude, too, is a monstrosity to some. A girl with no better than plain features, she nearly starves until she takes a job as a repoussoir. Wealthy women hire ugly women such as Maude to join them in public so that they will shine all the brighter in comparison. Countess Dubern hires Maude as a companion for her daughter Isabelle during the girl's first social season, with the expectation that Maude will steer Isabelle into an engagement with the handsome and wealthy Duke d'Avaray. Rebellious Isabelle intends to study science at the Sorbonne instead, refusing to marry. The two girls develop a real friendship, leaving Maude torn between her job and her loyalty to Isabelle. Ross models her plot on an 1866 story by Zola, "Les Repoussoirs," expanding its focus to highlight Maude's plight and using that to illuminate the chasm that existed between the wealthy and the poor. Maude, with her artistic insight, her pluck and her intelligence, despite her lack of formal education, perhaps comes across as a less-than-typical adolescent of that time but holds readers' interest throughout. A refreshingly relevant and inspiring historical venture. (Review via Kirkus Reviews) 
Gay past and gay present collide. Right from the start readers will know something weird is going on with Levithan's latest. The narrator(s) refers to themselves as "us," and readers will soon deduce that it's the Kushner-esque collective voice of a gay generation from decades before, one that was ravaged by AIDS, anger, politics and more. It's through their lens that this story of seven boys from the present is told. The first two—whose activities are imparted in the work's title—are Craig and Harry. They're out to break the world's kissing record (32 hours, 12 minutes and 9 seconds) to protest a hate crime enacted upon their friend. They're not a couple anymore, and Craig still smarts from the breakup. A second pair—Peter and Neil—have been a couple for a while, but that doesn't mean their relationship is perfect. Pink-haired trans Avery and blue-haired Ryan meet at an alternative LGBT prom, and sparks fly. All the while, Cooper, kicked out of his parents' house and obsessed with gay-hookup apps, suffers alone. The story drifts back and forth and among these seven youth under the watchful, occasionally curmudgeonly voice of the past, which weighs down the narrative too much at times. The novel has genuine moments of insight and wisdom, but it feels calculated and lacks the spontaneity that made Levithan's first two novels so magical. Still, fans of his earlier works will appreciate the familiar tone, characters and themes they've come to love over the years. (Review via Kirkus Reviews)
Fantasy
From his opening announcement, "I don't feel the presence of God here," Andrew Winston Winters pulls readers into his story, alternating between his desperate life at an upscale Vermont boarding school and his grim, shadowed Virginia childhood. Present-day Win is smart, competitive and untrusting, estranged from his former roommate, Lex, his one ally and defender. The reasons for Win's self-loathing and keyed-up anxiety won't be fully revealed until story's end. What exactly does he expect to happen during the full moon? Why has he fallen out with Lex? Win's privileged childhood, when he was known as Drew, is another mystery. A violent child prone to motion sickness, his unvarnished self-portrait contains big gaps. What's happened to Keith, Win's gentle older brother, and Siobhan, their beloved younger sister? Kuehn unwinds her story like a cat toy, teasing readers. Only when all the pieces are fit into the puzzle will the mystery at its heart become clear. How the horrific secrets Win's been hoarding have shaped his past and explain his present crisis dominates the narrative. Timing—why he's experiencing his crisis and the choices flowing from it, now—gets less attention, leaving unanswered questions. (Review via Kirkus Reviews)
In the third book of The Chemical Garden Trilogy, readers finally learn what exactly a Chemical Garden is. Rhine has returned to evil Vaughn's compound, reconnecting with her husband, Linden, and sister wife, Cecily. In Bella Swan fashion, she wonders about missing Gabriel, the servant with whom she escaped and found comfort in Fever (2012), yet rekindles her feelings for Linden and their strange relationship. The first half of the story crawls as Rhine once again makes plans to outwit Vaughn and search for her twin brother, Rowan. At long last she has the support of Linden and Cecily, who slowly realize Vaughn's deception, as well as support from Linden's hippie-ish uncle, who lives off the grid. Once Rhine discovers that Rowan has become a celebrity vigilante terrorist, destroying virus-research labs across the country, and the true nature of her deceased scientist parents' work, the pace picks up. Readers, along with Rhine, learn more about the virus that kills off young adults, how American society destroyed itself, how the virus may have been unleashed and Vaughn's secret experiments to find a cure. Ironically, in this rushed effort to tie up loose ends, holes are left in its wake. Fans will delight in the symbolism and clues from the cover, but they will ultimately find the trilogy's conclusion unsatisfactory. (Review via Kirkus Reviews)
After being named the King's Champion in Throne of Glass (2012), Celaena Sardothien serves as the king of Adarlan's personal assassin—at least, she pretends to—in a densely plotted sequel. If the king catches Celaena disobeying his orders, he will execute her closest friends. However, she can't stomach advancing his agenda, especially if it means murdering innocents in cold blood. When the king uncovers traitors in the city, the first name on his hit list is Archer Finn, a popular courtesan and Celaena's old friend. Plotting Archer's escape, Celaena takes the opportunity to make him her personal informant about the rebellion, which Celaena hopes will help her infer the king's plans—plans she is thoroughly conflicted about challenging, for as much as she hates the king, she thinks opposing him would only get her killed. Secrets damage her nuanced relationships with Chaol and Nehemia. (The complex friendship between these two formidable women is a particular treasure.) Meanwhile, Celaena unravels the mystery of Adarlan's sudden strength, a magical subplot that intersects with Dorian's dangerous self-exploration. Vivid Celaena, loving and brutally violent in turn, is a fully realized heroine. The ending comes at the right time—at the close of one storyline and prologue of another—to leave readers impatient for the next installment. An epic fantasy readers will immerse themselves in and never want to leave. (Review via Kirkus Reviews)
NonFiction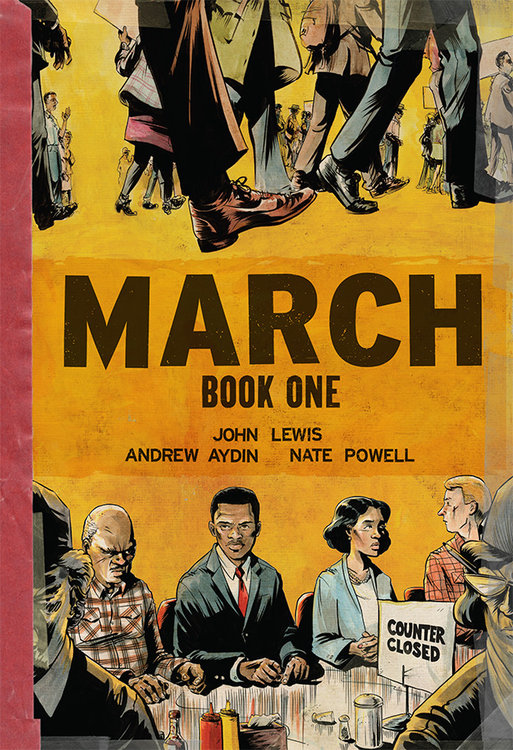 Eisner winner Powell's dramatic black-and-white graphic art ratchets up the intensity in this autobiographical opener by a major figure in the civil rights movement. In this first of a projected trilogy, Lewis, one of the original Freedom Riders and currently in his 13th term as a U.S. Representative, recalls his early years—from raising (and preaching to) chickens on an Alabama farm to meeting Martin Luther King Jr. and joining lunch-counter sit-ins in Nashville in 1960. The account flashes back and forth between a conversation with two young visitors in Lewis' congressional office just prior to Barack Obama's 2009 inauguration and events five or more decades ago. His education in nonviolence forms the central theme, and both in his frank, self-effacing accounts of rising tides of protest being met with increasingly violent responses and in Powell's dark, cinematically angled and sequenced panels, the heroism of those who sat and marched and bore the abuse comes through with vivid, inspiring clarity. The volume closes with the founding of the Student Nonviolent Coordinating Committee (which Lewis went on to chair), and its publication is scheduled to commemorate the 50th anniversary of the March on Washington, at which Lewis preceded Dr. King on the podium: "Of everyone who spoke at the march, I'm the only one who's still around." A powerful tale of courage and principle igniting sweeping social change, told by a strong-minded, uniquely qualified eyewitness. (Review via Kirkus Reviews)
Historian Sandler presents a cogent survey of Executive Order 9066 and its aftermath. The order authorized the U.S. military to relocate over 100,000 Japanese-Americans––many were U.S. citizens––from their homes in Washington, Oregon and California to detention camps. Everything was left behind. Neither the temporary holding centers nor the 10 internment camps were ready to house, feed and care for the evacuees. Whole families were housed in one small room, with meals in mess halls and humiliatingly public sanitary facilities. A few government officials did object to the order, questioning its constitutionality. Still, as the book's subtitle conveys, the disgrace and shame of the U.S. government's treatment of these innocent people remains a smear on the nation. Sandler opens with a history of the Japanese in the U.S. before moving on to a discussion of the people, camps, conditions, Japanese-Americans in U.S. military service and their lives after internment. (Irony of irony, it was the most decorated unit in U.S. Army history—the Japanese-American 442nd––that liberated Dachau.) Many, many photographs add to general knowledge, although captions lack dates—a nicety that would set a time frame. It is a good summary of a bad time, perhaps leading readers to question whether such events can re-occur in theirs. (Review via Kirkus Reviews)
Sci-Fi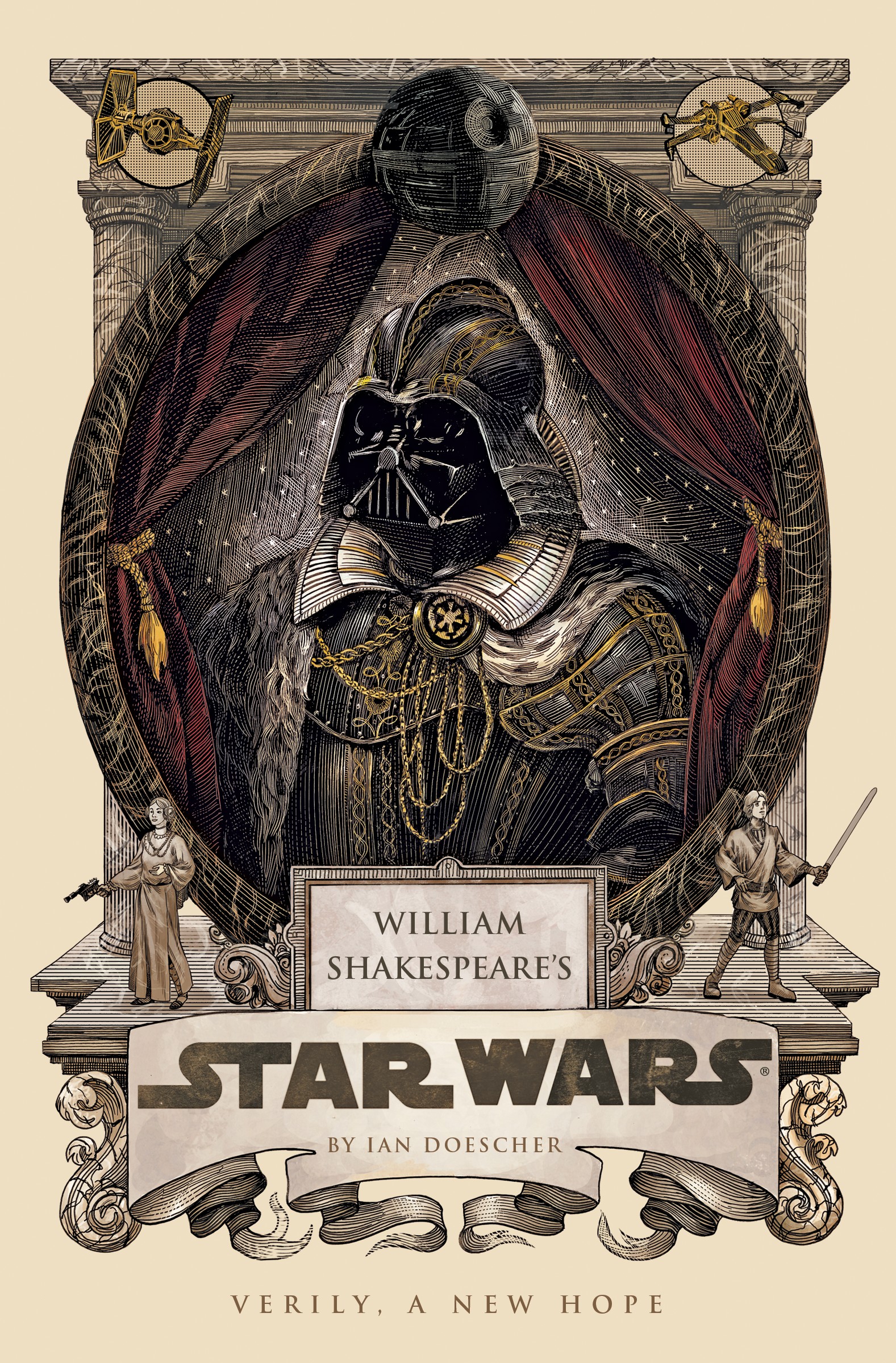 Inspired by one of the greatest creative minds in the English language-and William Shakespeare-here is an officially licensed retelling of George Lucas's epic Star Wars in the style of the immortal Bard of Avon. The saga of a wise (Jedi) knight and an evil (Sith) lord, of a beautiful princess held captive and a young hero coming of age, Star Wars abounds with all the valor and villainy of Shakespeare's greatest plays. 'Tis a tale told by fretful droids, full of faithful Wookiees and fearstome Stormtroopers, signifying…pretty much everything.
Reimagined in glorious iambic pentameter—and complete with twenty gorgeous Elizabethan illustrations–William Shakespeare's Star Wars will astound and edify Rebels and Imperials alike. Zounds! This is the book you're looking for.(Review via GoodReads)