OUR JANUARY BOOK ORDER HAS ARRIVED! 
(And there was much rejoicing!)
 Check out the reviews below to find your next favorite book!
SciFi
Teenagers with microchips that enable people to borrow their bodies evade those who would use them. (review via Kirkus)
Self-aware nonplayer characters, here video game enemies, try to escape the digital world. Phoenix leads the "next-generation, cutting-edge, biggest, baddest group of kickass NPC AI mother-crushers that ever played game" across premier game company BlackStar's genres and titles. BlackStar dominates the market through enemy AIs—artificial intelligence—as clever enemies make games challenging and unpredictable. But latest-generation Dakota malfunctions—she doesn't want to fight and is convinced she "can't just be a computer program." The characters slowly develop through fast-paced, genre-hopping video game excursions—while clear action descriptions are accessible to readers who don't game, those in the know will identify subtle nods. Dakota slowly convinces Phoenix's team that they're more than clever programs, forges an alliance with a programmer's children and leads the team out of the game world. It's a demotion, though, going from tough virtual personae to weaklings who've been living in liquid-filled tanks. Worse, post–energy crisis, society's collapsed and reorganized into corporate-controlled city-states. While better than the cannibals outside, the city's wracked with hopeless income inequity, a major theme. Games are the opiate of the masses. Phoenix's team battles physical hardships while evading BlackStar's desperate attempts to reclaim them. Light characterization is overcome by the mystery surrounding the origins of the characters, and a delightful final twist hits a perfect note. Skinner's debut pairs authentic gaming action with old-school, sophisticated science-fiction concepts to create a twisty, reality-warping ride. (review via Kirkus)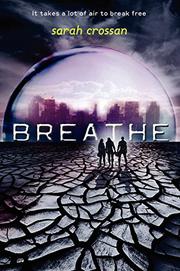 An imaginative, convincing dystopian world dominates this intriguing debut, in which the population lives in domed cities after most of the oxygen has escaped the atmosphere. (review via Kirkus)
Fiction
Having survived the gladiatorial university entrance exam in The Testing (2013), Cia and her childhood friends begin studying to become leading rebuilders of their post-apocalyptic society. (review via Kirkus)
A family struggles to hold itself together in the wake of war. Hayley Kincain and her father, Andy, a decorated veteran, have returned to their small upstate New York hometown after years of unschooling and long-haul trucking. Ostensibly, they're back so Hayley can have a typical senior year of high school, but it's clear that Andy's untreated PTSD has made it impossible for him to make a living as a trucker. Both Kincains are bright, sarcastic loners plagued by agonizing memories that won't quite stay repressed, despite their best efforts, and that punctuate the narrative in counterpoint: Andy's experiences during his four tours in Iraq and Afghanistan appear fully formed, while Hayley's childhood recollections are more fragmented and less reliable than they at first seem.  (review via Kirkus)
Rory's life is turned upside down when she is attacked by a serial killer who has been posing as a math teacher at her school. (review via Kirkus)
Louise, a dedicated follower of vintage fashion, thoroughly enjoys the Elizabeth Taylor and Richard Burton film Cleopatra when her substitute history teacher screens it in class. She's even more enthusiastic when she again visits Marla and Glenda's latest Fashionista Sale and is transported back in time to the Cleopatra movie set. Louise revels in the beautiful costumes and in meeting Elizabeth Taylor herself, but then she makes a serious mistake.
Murder has hit Friendship, Wis., (population once 689, now 688) hard; Kippy Bushman hits back harder to find the murderer in this Fargo-like debut. The 16-year-old is still grieving her mother, who died years ago, when BFF Ruth Fried is found killed in a local cornfield. The grisly details are immediately offset by small-town quirkiness and a thick Wisconsin accent, don'tcha know.  (review via Kirkus)
Sophronia Temminnick learns that being top of her spy-school class isn't a great way to make friends. Social dramas and interspecies politics beset the inhabitants of the massive airship known as Mademoiselle Geraldine's Finishing Academy. (review via Kirkus)
Fantasy
In this sequel to Amber House (2012), the creepy atmosphere of its predecessor segues into full-blown terror when its heroine finds herself in a world where Nazis and racism prevail. (review via Kirkus)
then. When Sam met Grace, he was a wolf and she was a girl. Eventually he found a way to become a boy, and their loved moved from curious distance to the intense closeness of shared lives. now. That should have been the end of their story. But Grace was not meant to stay human. Now she is the wolf. And the wolves of Mercy Falls are about to be killed in one final, spectacular hunt. forever. Sam would do anything for Grace. But can one boy and one love really change a hostile, predatory world? The past, the present, and the future are about to collide in one pure moment – a moment of death or life, farewell or forever. (review via Kirkus)
Historical Fiction
The disappearance of a star ballerina in Soviet Russia shatters the life of her daughter.
Bright, 17-year-old Marya is the daughter of the Bolshoi's star ballerina and her scientist husband, and she's a dancer herself. In the early 1980s Soviet Union, Svetlana Dukovskaya's celebrity translates into a comfortable life for herself and her family. Indeed, she has been called a "cultural patriot of the Motherland," and she expects Marya to follow her path. Her sudden disappearance throws Marya, and snatches of overheard conversation cause a sense of unease that is verified when Marya and her father learn Sveta has been institutionalized. (review via Kirkus)
D-Day, June 6, 1944, is the setting for Myers' powerful prequel to Fallen Angels(1988) and Sunrise over Fallujah (2008).
Old friends Josiah "Woody" Wedgewood and Marcus Perry see each other in England prior to the invasion of Normandy. Woody is with the 29th Infantry, and Marcus, who's black, is with the Transportation Corps, the segregation of their Virginia hometown following them right into wartime. Their friendship frames the story, as the two occasionally encounter each other in the horrific days ahead. Woody survives the slaughter on Omaha Beach to continue marching across fields, through forests and on to the town of St. Lo, though there is no town anymore: "We hadn't liberated anything, or anyone. We had destroyed the city, killed or chased away most of the people in it, and were claiming a victory." Woody's first-person account focuses on action scenes, cinematically developed and graphic enough to reveal something of the brutality and frequent futility of war, while his friendship with Marcus, peripheral to the central narrative, reminds him of home. "June sixth changed us all," says Woody, and he understands that, if he survives, he will never be able to convey what war really is to those who stayed on the homefront. An author's note goes into greater depth about integration in the U.S. Army in the 1940s.
An action-packed novel that will help young readers understand the brutality of war. (review via Kirkus)