The book faerie visited Country Day last night and dropped off several new books for the Upper School library! Click through the tabs below to read about the new additions to our collection!
Boxers & Saints
A remarkable two-volume graphic novel that depicts two different perspectives of the
Boxer Rebellion
. Here's the publisher's blurb:
Boxers & Saints is an innovative new graphic novel in two volumes – the parallel stories of two young people caught up on opposite sides of a violent rift. American Born Chinese author Gene Luen Yang brings his clear-eyed storytelling and trademark magical realism to the complexities of the Boxer Rebellion and lays bare the foundations of extremism, rebellion, and faith.
FanGirl
Publisher's blurb:
In Rainbow Rowell's Fangirl, Cath is a Simon Snow fan. Okay, the whole world is a Simon Snow fan, but for Cath, being a fan is her life–and she's really good at it. She and her twin sister, Wren, ensconced themselves in the Simon Snow series when they were just kids; it's what got them through their mother leaving.
Reading. Rereading. Hanging out in Simon Snow forums, writing Simon Snow fan fiction, dressing up like the characters for every movie premiere.
Cath's sister has mostly grown away from fandom, but Cath can't let go. She doesn't want to.
Now that they're going to college, Wren has told Cath she doesn't want to be roommates. Cath is on her own, completely outside of her comfort zone. She's got a surly roommate with a charming, always-around boyfriend, a fiction-writing professor who thinks fan fiction is the end of the civilized world, a handsome classmate who only wants to talk about words . . . And she can't stop worrying about her dad, who's loving and fragile and has never really been alone.
For Cath, the question is: Can she do this?
Can she make it without Wren holding her hand? Is she ready to start living her own life? Writing her own stories?
And does she even want to move on if it means leaving Simon Snow behind?
The League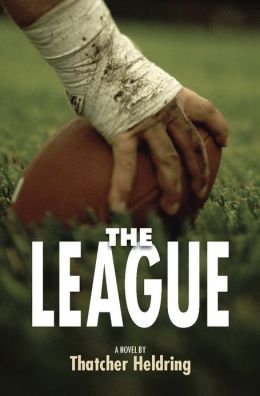 Publisher's blurb:
Just when it seems that his football dreams are history, Wyatt's older brother, Aaron, makes an unexpected offer: If Wyatt ditches golf camp, he can play with Aaron in the League of Pain: the roughest and most secretive rogue football league in town.
Now Wyatt has a choice. He can play by the rules like he always does, or he can follow his heart—even if it means lying to the people he cares about the most. 
But if Wyatt wants to play in the league, he must learn to accept the penalties.
Photo Credit: Brenda Bomgardner. Flying Book.[ digitally enhanced photograph]. Retrieved from http://creatingyourbeyond.com/5-steps-to-personal-growth-and-happiness/